Description
The Kyte Baby Swaddle Blanket in Hufflepuff is silky soft and ultra cozy. The versatile style allows it to be used as a lightweight blanket, knotted gown, nursing cover, and carseat/stroller cover. The long and stretchy design allows it to be used well past swaddling age as a favorite blankie.
Kyte Baby Bamboo Swaddle Blanket in Hufflepuff Features
Made from ultra-soft silky bamboo rayon
Perfect for babies with sensitive skin or eczema
Naturally temperature regulating so you don't have to worry about baby getting too hot or too cold
Bamboo is naturally antimicrobial
Free from flame retardant chemicals
Hand wash, or wash separately on gentle cycle in cold water to help prevent pilling in your Kyte Baby products. Hang to dry.
To prevent stretching, fold and place in a drawer or shelf.
Kyte BABY Blanket Size Chart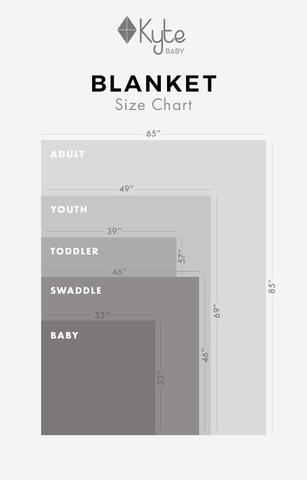 About Harry Potter x Kyte BABY
The Kyte BABY Licensed Harry Potter Hufflepuff print. A repeating, all-over print featuring a European badger, a gold Hufflepuff's Cup, a young Mandrake, a black and gold spade, a shiny watering can, and a cluster of three 6-pointed stars, over a golden ochre background.