A car seat with a built-in stroller? Sounds like a dream, right? The Doona Car Seat & Stroller is an infant car seat with built in wheels and a handle to convert it to a stroller – on the spot! A seemingly popular choice by celebrities, the Doona is a popular product for good reasons!
The Doona transforms from an infant car seat to a stroller with a simple one-handed pull of a lever.
Can Doona Be Your Only Stroller for the First Year?
Absolutely! The Doona supports weights up to 35 lbs and 32 inches. It comes with an easy to install LATCH base and can also be installed using seat belt configurations.
Is Doona Car Seat Safe?
Yes, the Doona meets or exceeds all US requirements for strollers. All car seats sold in the US must pass or exceed safety measures in order to be sold here.
Is the Doona Stroller Safe?
Using the Doona as a stroller is safe! Some car seat safety experts do caution against leaving a baby in an infant car seat for extended periods of time, and to never leave a child in an infant car seat unattended. This applies to ALL infant car seats and the Doona too. Many car seat manufacturers recommend that a baby should not be in a car seat longer than 2 hours.
Also, it's not recommended to use a traditional stroller with infants until they are able to sit unassisted, unless you have a bassinet/carrycot attachment which allows a baby to lie down. The straps on the stroller seat may not be short enough to securely fasten your baby and the angle of the seat may cause your child to slump forward which puts them at risk for positional asphyxiation.
How much does the Doona weigh?
The Doona Car Seat & Stroller weighs 16.5lbs. We don't find this terrible for an all-in-one solution considering the Chicco Keyfit 35 weighs nearly 11lbs on its own!
Can You Travel with the Doona?
Yes! The Doona is FAA approved – and leave the base and practice the lap belt installation method. Some sources claim that you can't bring your Doona across the border – but this does not apply to travelers. It IS however illegal for Canadians to import Doona's as they are not approved by their car seat standards.
If you're bringing the Doona, but not using it on the plane, you can gate check it. We recommend purchasing the Travel Bag or Padded Travel Bag to keep it free from scuffs, scratches, and dirt.
Is the Doona Easy to Use?
Yes! We find the Doona to be simple to operate.
Doona Brakes
It has an easy brake system with a green pedal for unlocking, and red pedal for locking.
Adjust Doona Handle Height
Simply press the button the Doona handle and push or pull to adjust the height on the handle! The handle has a maximum height of 38 inches (from the ground).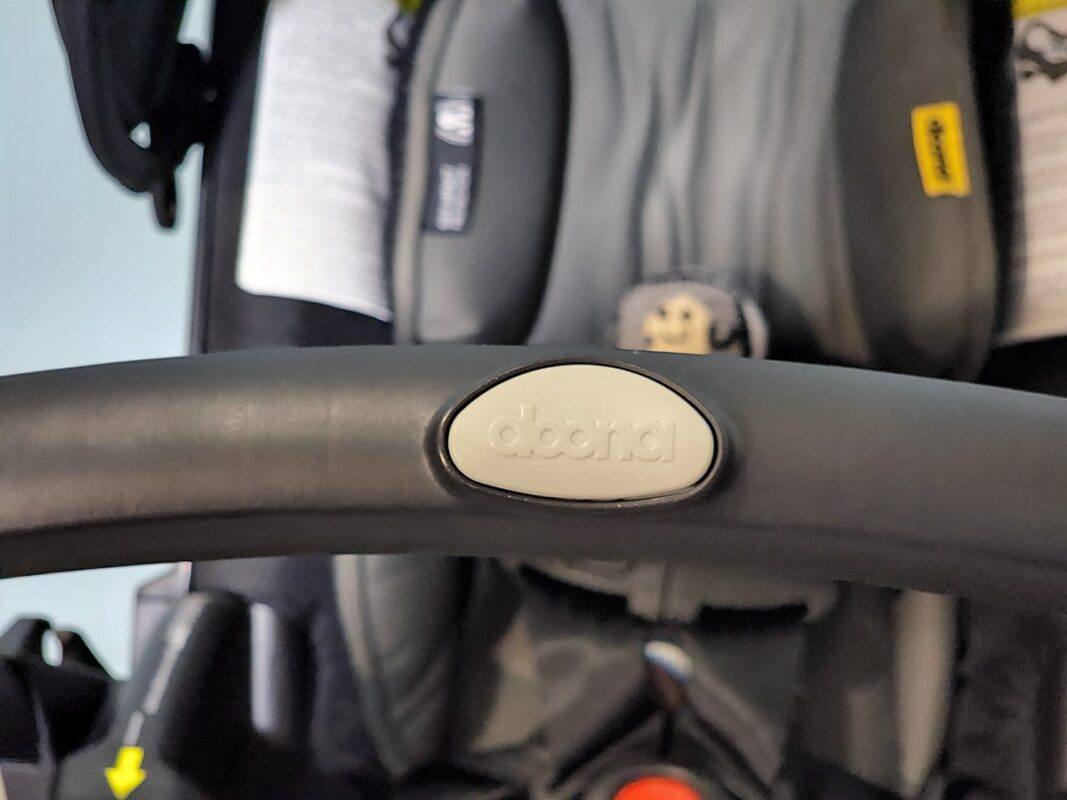 What accessories do you need for a Doona?
There are a number of accessories that are available for the Doona. Available accessories include:
Out of these, we highly recommend the Snap On storage since there is no basket with the Doona, and the Vehicle Seat Protector since the wheels fold up under the car seat. The Sunshade is also a great accessory for the summer, and the Winter Cover is perfect for winter!
What color options are available for the Doona?
Currently the color options include:
Black
Greyhound
Desert Green
Racing Green
Royal Blue
Blush Pink
Flame Red
Midnight Edition
Gold Limited Edition
Where should you buy your Doona?
Look for authorized retailers of the Doona. Avoid buying Doona's on Amazon, however, as there have been a large number of flippers trying to make a dime off of people looking for Doona's, and worse – there have been a large number of fake Doona's being sold on Amazon!
Pros of a Doona Stroller
Great first year infant car seat and stroller combo
Installs without a car seat base
Multiple color options
Adjustable-height handle
Recoup costs when you resell it
Cons of a Doona Stroller
Short handle height may be challenging for taller people
The weight of the car makes it a poor candidate for apartment dwellers without elevators
No built-in storage (must be purchased separately)
Is the Doona Worth It?
Starting at $549, is the Doona worth the hefty price?
Is the Doona a Must-Have: Yes!
We think the Doona is perfect for parents who expect to be on the go, aren't ready to purchase a full-size stroller, or need all the trunk space they can get! While the Doona is first and foremost an infant car seat, the attached wheels lend convenience that is unmatched by any other solution today.
Sources:
https://www.babygearlab.com/reviews/vehicle-safety/infant-car-seat/doona
https://thecarseatlady.com/airplanetips/
https://doona.shop/pages/faqs-safety-features-of-the-doona-2
https://www.shopdoona.com/pages/spotted-with
https://www.aap.org/en/patient-care/safe-sleep/