Description
Doona Stroller and Car Seat
The Doona Stroller is a car seat with foldout wheels! It's an all-in-one solution for transporting your baby around that is as versatile as it is stylish. The internet agrees that the Doona Stroller & Car Seat is a top choice for thousands of owners with incredible reviews with averages from 4.6 – 4.8 stars out of 5. There are, of course, opinion pieces out there that are purposely inflammatory clickbait involving the Doona; but they don't appear to be backed by facts and certainly don't reflect what owners actually say. Read more about common misconceptions related to the Doona:
What You Need to Know Before you Buy a Doona Stroller & Car Seat
We've seen some comments about the price of the Doona Stroller & Car seat being high, but it's really not that expensive when you consider what you're saving by not having to buy both a car seat and a stroller; at least when we're talking about higher quality car seats and strollers.
The Best Weekend Stroller and Car Seat
Not having to worry about packing the car and having space for the stroller is a priceless feeling in an already stressful time! Going anywhere over the weekend or for extended vacations becomes a chore when you're trying to figure out how to find space for a stroller on top of everything else you need to bring for your baby, yourselves, and other children. With a Doona, you're buying peace of mind for a challenge most people never consider when looking at a car seat and a stroller before baby is born.
The Best Air Travel Stroller and Car Seat
Traveling couldn't be easier – this is the ultimate travel stroller and car seat. Having an all-in-one car seat and stroller is A LOT less to manage with air travel than the alternative of figuring out how to bring a car seat and a stroller with you on a plane. The Doona is FAA approved and is narrow enough to fit down most airplane aisles!
Transforms from a Car Seat to Stroller in Seconds
Is the Doona secretly a Transformer®? Maybe! It's certainly easy to transform from a car seat into a stroller and vice versa in a matter of seconds. This feature reduces the challenges parents face daily with securing and transferring their baby from the car to a stroller and back again. Again, priceless.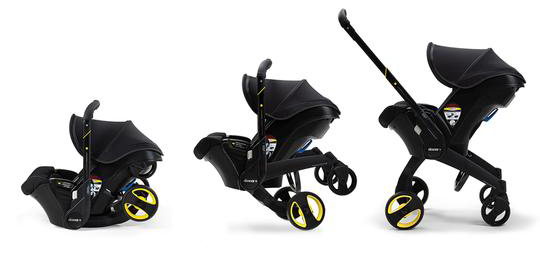 Doona Car Seat Safety
With the Doona car seat and stroller, safety comes first. Doona has successfully passed all legally required compliance tests, as well as additional tests above and beyond the requirements.
Features & Benefits
One simple motion operation, From Car Seat to Stroller in seconds
Available in 7 colors and the Midnight Special Edition
5-point harness
Infant cushion insert
One-touch brake
Adjustable handlebar (which also acts as an anti-rebound bar when inside the car)
Head support
Shoulder pads
New stretch material canopy in fashion colors
UPF 50+ sun protection and water repellant canopy
Removable and washable textiles
Baby Safe materials & new and improved breathable textiles and inner foams
Rear-facing only
Highest safety & quality standards
TUV and FAA aircraft approved for travel
Suitable for infants from 4 lbs to 35 lbs
2 years manufacturer's warranty
Doona Car Seat & Stroller Specifications
Car seat: 23.6″ x 17.3″ x 26″
Stroller: 32.3′ x 17.3′ x 38.9′
Product weight: 16.5 lbs
Suitability: Rearward facing infant car seat
Group: 0+
Recommended infant weight: 4-35 lbs
Recommended infant height: up to 32 inches
What's Included
Doona™ Infant Car Seat & Stroller
LATCH Base
Infant Insert
Head Support
Vehicle Seat Protector
An Award-Winning all-in-one Car Seat & Stroller
The Doona Car Seat & Stroller is the winner of more than 30 innovation awards from around the world!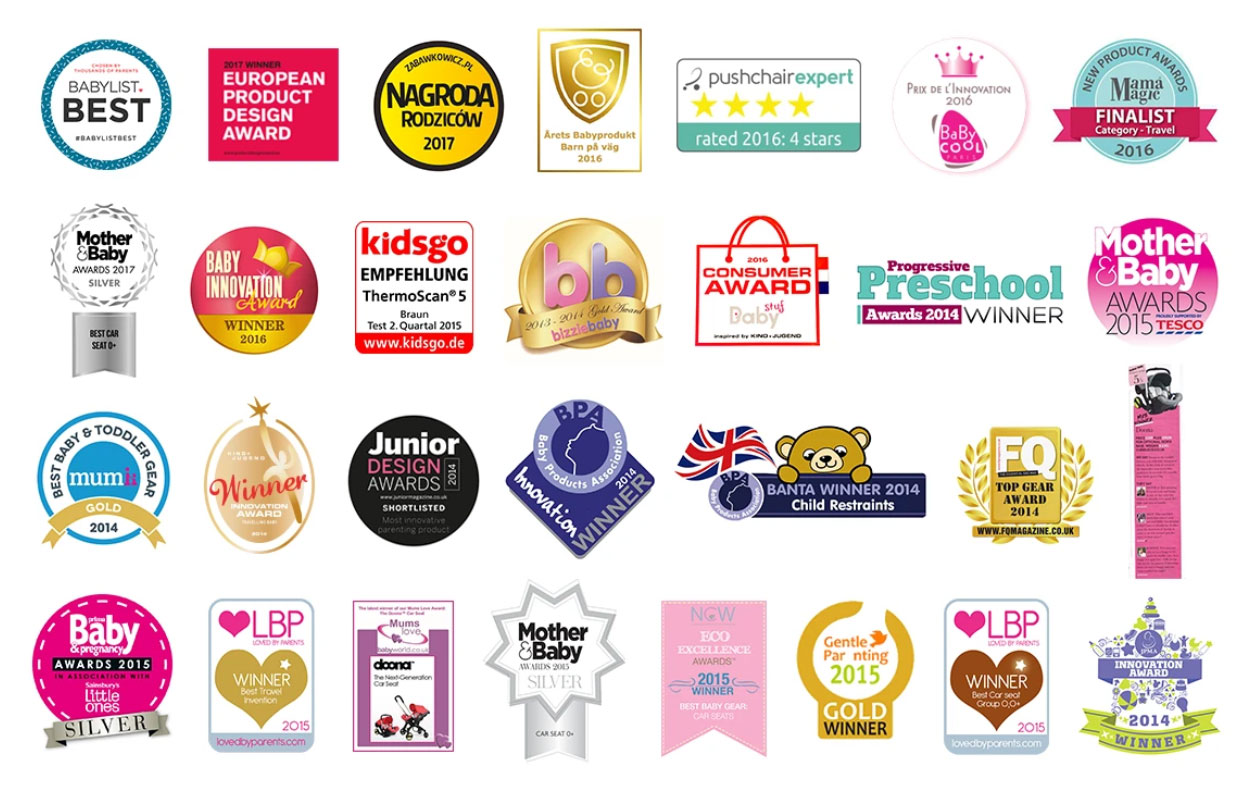 Buy Authentic
Blossom is an authorized reseller of the Doona Car Seat & Stroller and Liki Trike.