Description
The Doona Midnight Edition Car Seat & Stroller is an all-in-one car seat and stroller, so you never have to transfer your baby from car seat to stroller and back again! With a simple motion, the Doona transforms from a car seat into a stroller without ever moving your baby.
The Doona Midnight Special Edition includes added luxurious features such as a diamond shape seat cover, black anodized aluminum, and faux-leather touches throughout. This edition also includes an exclusive, complimentary Doona Midnight Essentials Bag and a luxurious black faux-leather Handlebar Cover.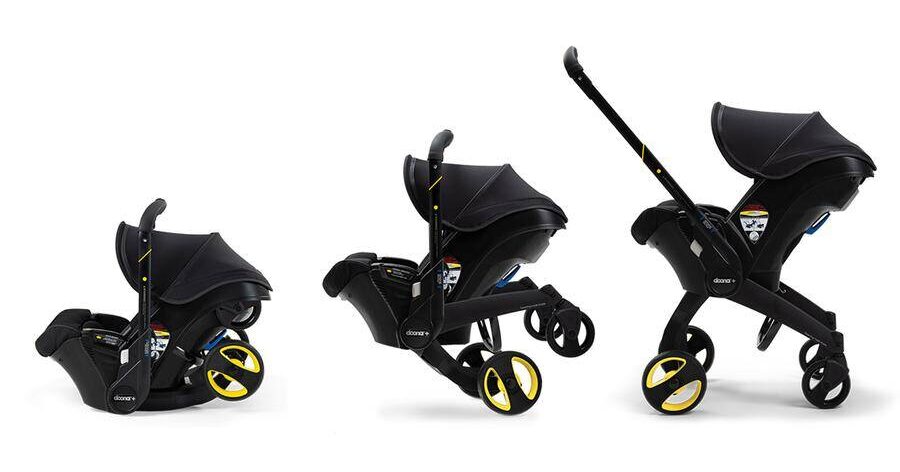 Doona Midnight Edition Car Seat/Stroller Features
One simple motion to go from Car Seat to Stroller in seconds
5-point harness
Adjustable handlebar that also acts as an anti-rebound bar inside the car
New stretch-material canopy in fashion colors
Removable and washable textiles
Baby safe materials & new and improved breathable textiles and inner foam
Intended for Rear-facing only
Meets the highest safety & quality standards
TUV and FAA aircraft approved for air travel
Suitable for infants from 4 lbs to 35 lbs
2 years manufacturer's warranty
Exclusive Features to the Doona Midnight Special Edition
Black anodized aluminum profiles
Black canopy with faux-leather detailing
Black faux-leather removable handle bar cover
Matching shoulder pads
Black seat cover with diamond pattern and faux-leather detailing
Midnight Essentials Bag
Black Bamboo-fiber Infant Insert & Head Support
Exclusive edition packaging
What's Included?
Doona Infant Car Seat & Stroller Midnight Edition
Essentials Bag in Midnight
LATCH Base
Infant Insert – Midnight Edition
Head Support – Midnight Edition
Vehicle Protector
Product Specifications
Dimensions Folded: 23.6 X 17.3 X 26 inches
Dimensions Unfolded: 39 X 17.3 X 32.2 inches
Product Weight: 16.5 lbs
Suitability: Rearward facing infant car seat
Group: 0+
Recommended Infant Weight: 4-35 lbs
Recommended Infant Height: up to 32 inches
Suggested Doona Accessories
Vehicle Seat Protector
Padded Travel Bag
LATCH Car Seat Base