If you're a new parent in a condo, townhouse, tiny home, or other small space, you may be overwhelmed by the size and clunkiness of high chairs available at the big box stores.
Cheaper high chairs may be smaller, but don't afford the stability and sturdiness of their larger counterparts. They may also contain a lot of plastic or hard to clean components.
What high chair is best for small spaces?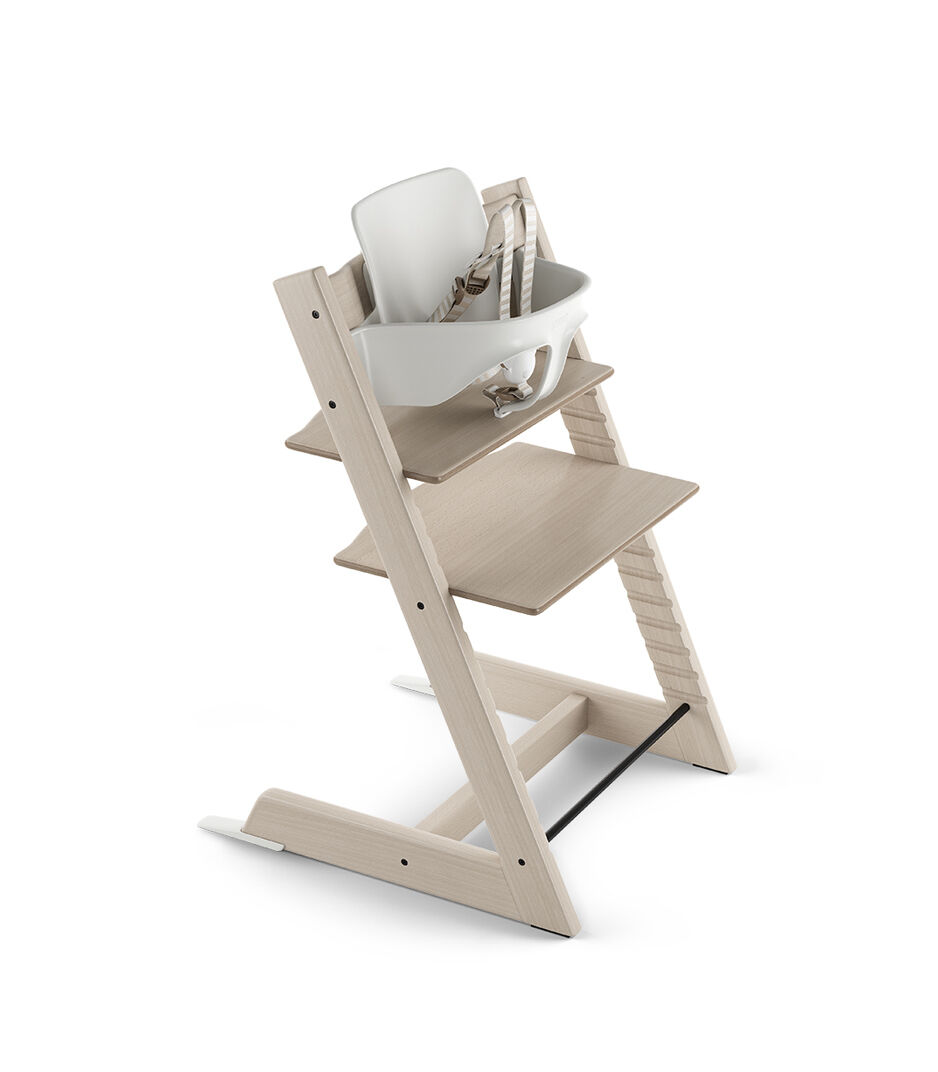 We think the perfect high chair for small spaces is the Stokke Tripp Trapp.
The Tripp Trapp high chair by Stokke has been around since 1972. It's made from solid wood, and its minimalist design has a small footprint, but is incredibly sturdy!
The high chair is designed to pull up to a table, which further reduces its footprint, but there is a high chair tray available to purchase separately as well.
It's also an eco-friendly option since its made from sustainably-sourced wood and finished using water-based, non-toxic paint and is free from harmful substances including bisphenol and phthalates. The baby set in the Tripp Trapp high chair is made from recyclable plastic.
It also has an incredibly long life. With the purchase of the Tripp Trapp Newborn set, it can be used from birth. It also supports up to 300 lbs, so not only does it grow with a child, it can be used as a chair for a full-sized adult.
Tripp Trapp Measurements & Specifications
The Tripp Trapp weighs in at about 15.5 lbs and its dimensions are 31 x 19 x 18 inches. It's meant to fit right up to tables that are 28-29 inches tall.
It's available in a variety of colors and wood finishes, such as Beech, Oak, and Ash and colors including red, pink, black, blue, green, and more!
It's also JPMA certified and comes with leg extenders for a little extra stability when needed.
Tripp Trapp Assembly
Assembly is pretty quick and painless, and should take about 10 minutes. Make sure you are placing it on an even surface during assembly.
Features We Love about the Tripp Trapp High Chair
Easy to clean! There are very few nooks and crannies with this design -making it super easy to wipe down after meals.
Eco-friendliness
All of the color options!
Longevity makes it a worthwhile investment
Elegant and timeless design
Tripp Trapp Accessories
Stokke has a lot of accessory options to allow the Tripp Trapp to fit whatever space or whatever needs you have.
Tripp Trapp Newborn Set
This attachment requires no assembly and mounts to the chair (without the baby set) without any tools. This will allow you to use a Tripp Trapp high chair from birth until 20lbs, or until baby can sit up.
With the purchase of the newborn set, you may also reduce the need for other places to put baby like a bouncer or swing, which can save space and of course, money.
Tripp Trapp Baby Cushion
Stokke has different cushion options depending on the stage the Tripp Trapp is being used in. The baby cushion is a single piece that kind of cocoons around the baby – making it great for when they are first starting out in the high chair. They can only really be used with the baby set.
They are padded and made from Oeko-Tex certified materials that are always water-repellent. Having these baby cushions as an accessory option allows you to have multiple if you have a messy eater (and what baby ISN'T?) so you can have one in the wash and a spare for the next meal or when you want to contain the baby.
Tripp Trapp Classic Cushion
The classic cushion can be used with the Tripp Trapp high chair with or without the baby set portion. It includes a top part that goes on the back, and a bottom part the wraps the seat.
The Tripp Trapp Classic cushion are made from Oeko-Tex certified materials as well, and are padded and easily machine washable.
Tripp Trapp High Chair Tray
If you're not a fan of having your baby eating off your table, you can purchase the Tripp Trapp tray. It clips to the baby set, and is available in three colors. It's not meant to hold the baby into the chair though, so make sure you're still using the harness even if you have a tray.
Tripp Trapp Storage
The Tripp Trapp Storage is a cubby that attaches to the back of the Tripp Trapp chair to store stuff like bibs, pacifiers, etc. and later can on to store crayons, games or other dining table activities. The only gotcha with this is that it needs to be installed before you attach the baby set in the assembly process, so plan ahead!
Why should I buy a Tripp Trapp High Chair?
The Tripp Trapp is an incredibly popular chair for good reason. It makes a great high chair for small spaces and big spaces alike and is also a fantastic option for grandparents as it can be used with their littlest grandchildren or adult guests. Its small footprint allows it to not dominate your dining space, and lightweight but sturdy design lets you bring baby around the house with you from birth with the Tripp Trapp Newborn Set!