Description
The thinkbaby SPF 50+ sunscreen is a mineral-based sunscreen that is water resistant and provides broad-spectrum protection. Free from harmful chemicals, this sunscreen is safe for babies, children and adults! This easy-to-apply formula comes in a convenient 3 oz tube.
Thinkbaby SPF 50+ Sunscreen Features
Provides safe and natural protection
Reef-Safe Formula
Passes Whole Foods Premium Care Requirements, Thinksport vegan, Leaping Bunny certified sun creams contain no PABA, parabens, phthalates, BPA, oxybenzone, avobenzone, petroleum, gluten, dairy, or toxic chemicals.
Water Resistant – Your child can swim, dive and play in the water safely. Our children's sun cream provides the highest water resistance per the FDA, offering kids continuous protection for up to 80 minutes in the pool or sea before the sunscreen should be re-applied.
SPF 30 provides 97% protection from UVB (compared to 99% protection from SPF100)
Contains 3 fl oz
Made in the USA
Tips for Sunscreen Application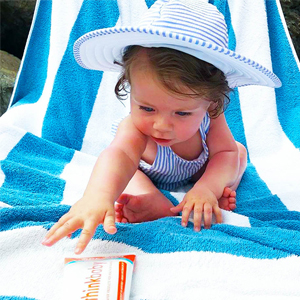 Be sure to apply all areas that will be exposed to sunlight, including behind the ears, neck, hands, feet, and scalp 15 minutes before sun exposure.
Reapply after 80 minutes of swimming or sweating, immediately after towel drying, at least every 2 hours.
While the sunscreen applies very easily, we recommend not spreading it too thin. Otherwise you will decrease the effectiveness of the sunscreen.
About Thinkbaby Products


With a team of physicians & scientists, Thinkbaby & Thinksport lead in the usage of safe materials for consumer products. We don't wait for materials to make headlines in order to make a change. We continue to expand our products to offer alternatives to existing products on the market. Our efforts are energized by working with leading child advocacy partners & like-minded individuals seeking alternative products. We approach each product with the same criteria: safe, functional, & sustainable.