Description
Laree + Co bamboo two-piece sets, like the Kace camo printed one, are super soft and perfect for staying stylish and comfortable all day!
Kace Laree+Co Two-Piece Set Features
Includes long sleeve shirt and pants
Button accents on neckline
Elastic waistband
Matching accessories sold separately
Materials: 95% viscose from bamboo, 5% spandex
Wash delicate cycle, tumble dry low. Do not bleach. Iron on low as needed.
Not intended as sleepwear
Designed in Kansas, made in China
Laree+Co Size Chart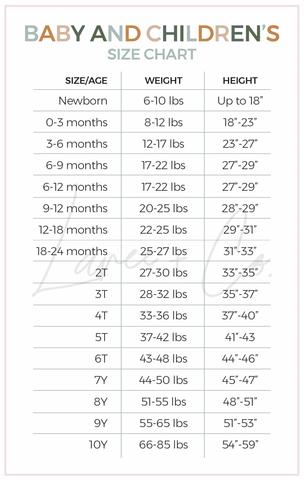 The Story of Kace – Laree+Co
"Kace Alphonse Reid was born on August 13, 2017. He was a our little miracle baby. We had 7 miscarriages in two years prior to him. At his prenatal appointments he was deemed incompatible with life. We promptly switched care and found a team that believed in him and agreed to give him the life saving care he needed. Our family was truly blessed! Kace was born with heart issues. He had his first open heart surgery at 1.5 months old, then having a cath lab procedure a week later. These two surgeries changed Kace's life. At 8 months old he had a GJ button put in for feeding. This was a game changer for him. He was hospital free for 15 months after that surgery. He started showing signs that he would be needing his next heart surgery soon. We had many consultations with his cardiologist. As a team, we decided it would be a perfect time to repair his heart further since he was so healthy. We didn't want to wait until he was in distress and then have him not make it out of surgery. Well, he rocked his surgery. It wasn't until 4 days after that he got an infection and a collapsed lung, then another collapsed lung. His new Glenn repair stopped working like it had been. After a month plus of fighting to fix what had gone wrong, it had become apparent that Kace's organs were shutting down. Kace, his family and his care providers fought like no other to make him healthy again but God said it was his time to come home. He passed away 9 days after his 2nd birthday.
He was an amazing little soul who smiled constantly! His smile was so infectious, bringing joy to so many people, from family, friends, ballooning community, and health care professionals. He truly lived life to it's fullest! He went hot air ballooning twice a weekend during ballooning season, he took many trips to the beach, & spent many times on the benches watching his brother's basketball games. He is loved and missed tremendously! #kacestrong"