Description
Made of ultra-soft bamboo, Kyte Baby Zippered Romper in Polka Dots is perfect for babies to explore with their little toes and keep those tootsies cool at night. The addition of a little spandex gives just the right amount of stretch to be comfy without permanently stretching necklines or cuffs. Don't bother messing around with a wiggly baby or toddler and snaps! The two-way zipper zips from the top and bottom, making diaper checks and changes easy without completely undressing your baby. Pair with Kyte products in Indigo for a coordinated look or mix and match with other kyte solids and prints!
h2>Kyte Baby Zippered Romper in Polka Dots Features
Made from ultra-soft silky bamboo rayon
Perfect for babies with sensitive skin or eczema
Naturally temperature regulating so you don't have to worry about baby getting too hot or too cold
Bamboo is naturally antimicrobial
Double-zipper makes wardrobe and diaper changes easy
Footless sleepwear
Free from flame retardants
Designed to be tight fitting
Kyte Baby Polka Dots Zippered Romper Material
Made from 97% Bamboo Rayon and 3% Spandex
Caring for Kyte Baby Polka Dots Footless Zippered Romper
Hand wash, or wash separately on gentle cycle in cold water to help prevent pilling in your Kyte Baby products. Hang to dry.
To prevent stretching, fold and place in a drawer or shelf.
You may use a medium setting on an iron to remove wrinkles.
Kyte BABY Size Chart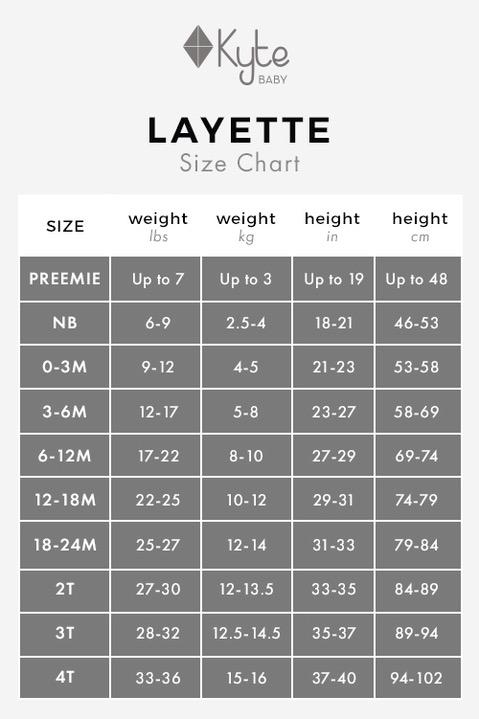 H