Description
Snuggle time, stroller walks, or sleep with Kyte BABY Baby Blanket in Herbology. The gentle bamboo rayon fabric has a silky smooth feeling that will keep your little ones cozy and warm and bring comfort and snugness. The Baby Blanket in Flight has a 1.0 TOG rating. The blankets are quilted on one side and smooth on the other giving texture variety.
Kyte BABY Flight Baby Blanket 1.0 TOG Features
Made from ultra-soft and breathable silky bamboo rayon
Measures 33×33 inches
Perfect for babies with sensitive skin or eczema
Bamboo is naturally antimicrobial
Free from flame retardant chemicals
Exterior: Made from 97% Bamboo Rayon and 3% Spandex Filling: 100% polyester
Kyte BABY Baby Blanket in Herbology TOG Ratings Guide
TOG (Thermal Overall Grade) is a unit of measurement to calculate thermal insulation of a product. The higher the TOG rating, the warmer the product. When choosing a blanket for your Baby, it's important to choose one based on the ambient temperature in their room.
Generally, thicker Kyte BABY TOG rated Baby blankets are recommended for cooler months and thinner Kyte BABY TOG rated Baby blankets for warmer months.
Recommended TOG Rating and Sleep Temperatures for Kyte BABY Baby Blankets
0.5 TOG: 74-78 degrees F (23-26 degrees C)
1.0 TOG: 69-73 degrees F (21-23 degrees C)
1.0 TOG: 61-68 degrees F (16-20 degrees C)
Kyte BABY Blanket Size Chart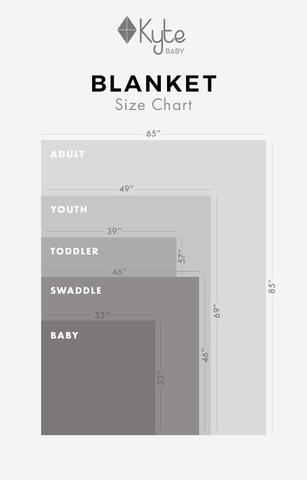 About Harry Potter x Kyte BABY
With the Kyte BABY Licensed Harry Potter Flight Print take to the skies with this magical print featuring three flying animal companions from the Wizarding World. Fawkes, the phoenix, is colored in rust red with his wings spread wide. Hedwig, the snowy owl, is colored in cloud white, with a sealed envelope in her beak. Buckbeak, the hippogriff is colored in cloud white, with his talons out and wings spread for flight. Stars colored in metallic gold shimmer realistically against the print's dark ocean blue background.