Description
A perfect daytime romper made with both comfort and style! Dream Jamms bubble rompers are the perfect sleeveless piece includes a snap closure at the bottom for easy dressing and diaper changes. You'll love the ruffles on the bodice and shoulder, as well as along the leg openings and on the tush!
Dream Jamms Born to Bloom Bamboo Viscose Bubble Romper Features
Material: 95% Viscose from Bamboo, 5% Spandex
Snap closure at bottom for easy diaper changes and dressing
Ruffled bubble romper
Tagless! Free from anything itchy that might irritate your little one's skins
Not treated with harsh chemicals
Any headpieces or blankets shown are sold separately
Not intended for sleepwear
Dream Jamms Size Chart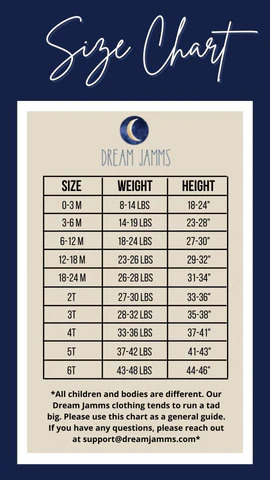 What is it about Dream Jamms bamboo?
What is it about Dream Jamms Bamboo? Their bamboo fabric stays about 3 degrees cooler than cotton on average. It's breathable, thermo-regulating, moisture absorbing and hypoallergenic. It's great for kids with eczema. It's great for hot sleepers and sensitive skin. In warm, humid weather, bamboo viscose won't stick to your baby's skin. It's sure to keep your babe drier, cooler and more comfortable year-round!