From an adorable family of mice to rabbits, dinos, hippos and more, Maileg (pronounced "My Lie") toys are sure to delight and inspire. Maileg is a Danish brand of toys established in 1999. In fact, their philosophy is to provide well-made and adorable toys that will last for years. Maileg also designs and creates their toys under the belief that children thrive with simpler toys rather than plastic.
Each Maileg toy is a limited release and collectible.
What We Love About Maileg Toys
We love that Maileg toys come with a simplistic style that can help children slow down and enjoy playing. They bring a world where matchboxes can be beds, cats and mice are friends, and adventures can be found in nature, and through a simple life.
The plush toys make cuddly soft friends, and the rabbit and mice family provide great alternatives to a traditional dollhouse to create your own stories and use your imagination.
We carry Maileg mice, which are great for children to roleplay life and expand their imagination. They can emulate what they see in their own daily activities with the different sized mice and accessories. This type of imaginative play can be great to help children explore feelings and work through problems they have or may encounter.
Unstructured play is great for boosting creativity and is critical to brain development! Some of the benefits of imaginative play include:
Improves overall brain structure
Promotes healthy drive for goals
Lowers anxiety
Improve academic skills
Decrease disruptive behaviors
Increase understanding of literature
Increase emotional competence
Express & explore feelings
Practice logical reasoning skills
Improve concentration and focus
Learn collaborative skills
Provides building blocks for stress management and social-emotional resilience
Develop interests and learn about new things
About the Maileg Mice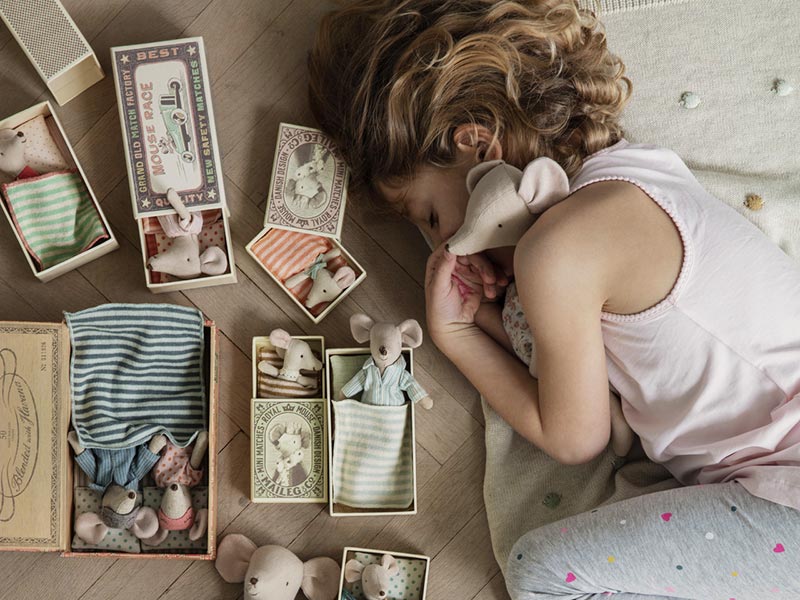 The Maileg Mice include a Mom mouse, Dad mouse, Big Sister Mouse, Little Sister Mouse, Big Brother Mouse, Little Brother Mouse, and baby mice in twins and triplet packs. We love that you can get a whole family to match yours or your child's preference.
The mice are Micro sized and work with the Maileg dollhouse and Micro sized furniture. The dollhouse comes with a variety of rooms and furniture and accessories to populate those rooms such as bathrooms, kitchens, play rooms, bedrooms, and more.
Other accessories for the Maileg mice include outfits and clothing and situational accessories like a beach set, dance room, or camping tent.
In addition, there is even tooth fairy mice for that special time when your child loses a tooth!
Benefits of Maileg Toys
Besides being cute additions to a nursery or playroom, Maileg toys promote the many benefits of imaginative play. Some other benefits of Maileg toys like the Mice family include:
Pure and simple designs
Made to last for years or generations.
Unique & authentic look
Designed to bring imaginations to life!
All parts are safety approved (CE (EN-71) and ASTM F963-96A
All products are BPA-free and Lead-Free
Each individual toy is hand-made or at a minimum, hand-finished
Each toy is unique and collectible
Helps promote understanding of family dynamics
There are a number of accessories available for the Mice including furniture, boats, beach sets, and more.
In conclusion, Maileg toys are fantastic for toddlers and children to explore their imagination with cute little friends.
[button size="medium" style="primary" text="SHOP MAILEG" link="https://www.blossom.baby/brands/maileg/" target=""]