[vc_row][vc_column][vc_column_text]You can hardly scroll through Instagram without seeing a newborn snuggled up in a Moses Basket. The Moses Basket may be a pretty trend for adorable newborns, but are they safe for sleep?
What is a Moses Basket?
A Moses Basket is used as a bed and carrier for babies, and is typically made from palm, maize, or wicker. They are typically inexpensive when compared with a bassinet or crib. They often have handles. Some are sold with stands that you can set the basket in that may or may not rock.
There are many different brands and makers of Moses Baskets, some come lined, some come with fluffy mattresses, some are more bare.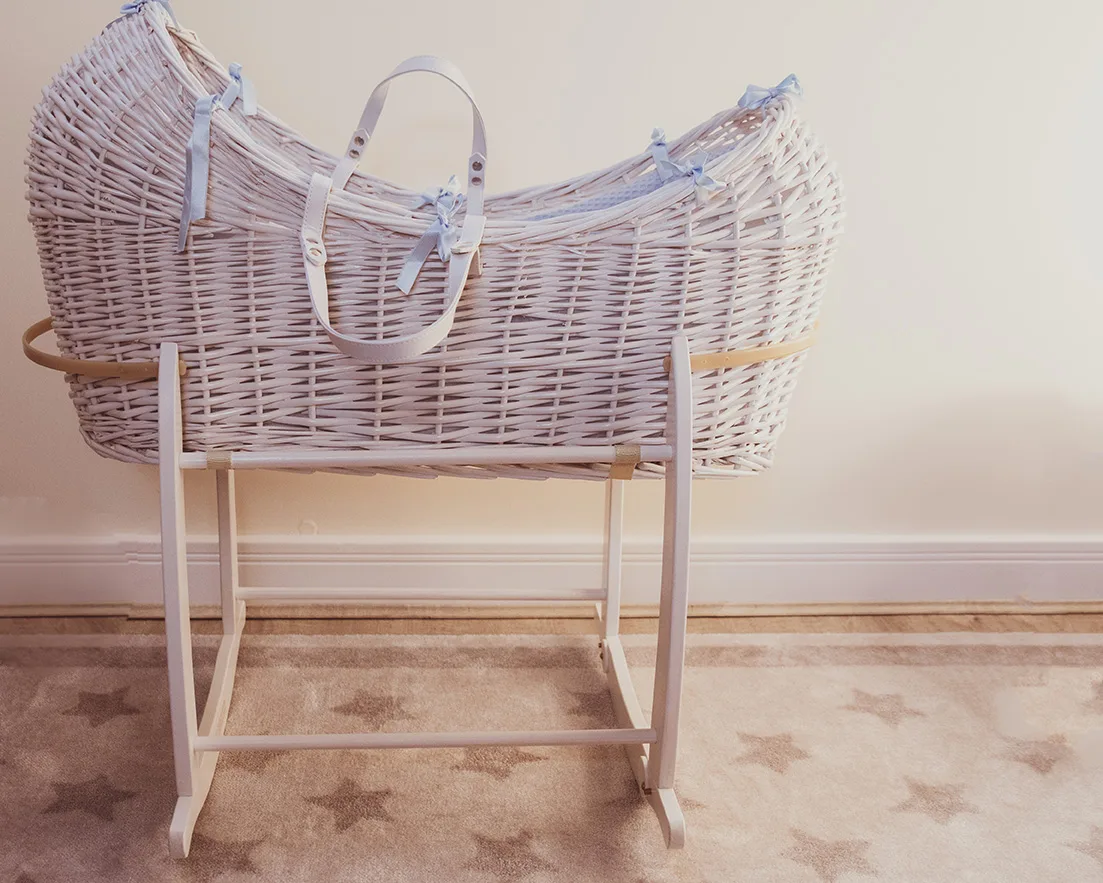 Are Moses Baskets Regulated for Safety?
Yes and no. A Moses basket may be considered a bassinet by the Consumer Product Safety Commision (CPSC). Some resources claim that they are not currently regulated, and therefore are not recommended for sleep by many pediatricians or baby sleep experts.
A bassinet that's regulated by the CPSC must:
Have enclosed openings to prevent entrapment
Be structurally sufficient to hold the baby
Be stable
Have sides high enough to prevent falls
Not have small parts and unintentional folding requirements
There may be increased risks with using a product such as a Moses basket.
Your newborn may not be able to roll over yet, but they can wiggle themselves into precarious situations. Infants can suffocate in gaps between padding (such as a Moses basket mattress or bumper) and the side of the basket. They also do not have the muscle control or reflexes to turn their head away from objects that can suffocate them.
What to Know if You Use a Moses Basket
If you are set on using a Moses Basket, be sure to follow some simple rules to make sure baby is sleeping in the safest environment possible.
When shopping for a bassinet or Moses Basket, look for a seal from the Juvenile Products Manufacturer's Association (JPMA) – this would show that the product met safety standards after lab testing. You can do a search on their website at: https://www.jpma.org/search/custom.asp?id=3548
Choose a basket that has a firm mattress and no extra fabric or fluff.
Look that the manufacturer claims they follow CPSC regulations for bassinets.
Make sure there are no gaps larger than two fingers between the sides of the crib and the mattress.
Stop using a Moses Basket when your child is 4 months of age or can roll over.
To prevent suffocation, never place pillows, blankets, or thick quilts in a baby's sleep environment.
Avoid using these with stands that are not safety tested – these may fail or be unstable with a risk that the baby may fall.
Place the basket on a firm, flat surface at ground-level.
DO NOT move or carry the basket with your baby inside of it.
Keep the basket away from heaters, fires/flames, stoves, fireplaces, camp fires, open windows, water, window blinds, etc.
Only place your baby on their back inside the basket.
Never leave baby unattended in a Moses basket.
If you've inherited a Moses basket or can't resist, you can always just use it for show – not sleep. Use it for pictures or even supervised snoozes during the day.
And if you are using one for sleep, be sure to use a Moses basket as safely as possible. There are many local resources you can speak to about SIDs and safe-sleep habits.[/vc_column_text][vc_row_inner][vc_column_inner][vc_toggle title="Sources"]
https://www.cpsc.gov/SafeSleephttps://newsroom.clevelandclinic.org/2018/01/10/cdc-report-says-many-parents-are-still-using-unsafe-infant-sleep-practices/
https://www.consumerreports.org/cro/bassinets/buying-guide/index.htm
https://www.jpma.org/
https://plumandsparrow.com/pages/basket-safety
[/vc_toggle][/vc_column_inner][/vc_row_inner][/vc_column][/vc_row]